Home >
Display your photos here
Click here to know how to show your Orlando vacation pictures on this page
(that's a free service)!
---
This is Emma and Jason - her lifeguard.

---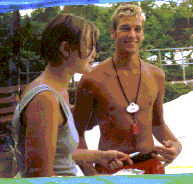 ---
The Gomes Family.
---
---
In order to display your pictures on this page you just need to email them (in "jpg" or "gif" file format) as an attachment to this address: photos@planetbr.com.
Please, don't forget to mention the names or phrases that you would like to be displayed with the pictures.

This is a free service for the visitors of this site.
We will keep the pictures on display for at least 6 months.
You may request us to take out the pictures at any time.
If you are still in doubt, please, request more information by email.


---
Disney & Orlando Guide
---
Copyright © 1998-2008 Planetbr.com. All rights reserved.

Disney is a trademark of Disney Company.
This site is not endorsed by Disney.